Faust 2.0 (English page)
FAUST 2.0 Official Facebook page: www.facebook.com/fausttwopointzero
SATAN IS READY TO MAKE A NEW DEAL.
FIVE APPS. FIVE TALES OF HORROR.
Njutafilms presents FAUST 2.0 – A Swedish Horror Anthology. A film project by a group of swedish directors that have created five tales of horror dealing with digital pandemia in its most terrifying form.
SYNOPSIS
Softwares and apps are daily installed based on agreements we scroll past and accept. But what exactly do we accept? In Faust 2.0 we meet five individuals who unknowingly enters into a pact with unknown forces and whose lifes are brought to a brutal turn when they use the mystical applications to achieve what they want – but instead get what they deserve. As the applications spread the pieces fall into place and a digital pandemic takes shape.
DOWNLOAD STILLS HERE: https://www.yousendit.com/download/ZUcwek9veDM3N0NFTmNUQw
DOWNLOAD POSTERS HERE:
https://www.yousendit.com/download/ZUczaXRNR3MzMWtLSk1UQw
PRESS KIT: concept and directors
ENGLISH TRAILER

POSTER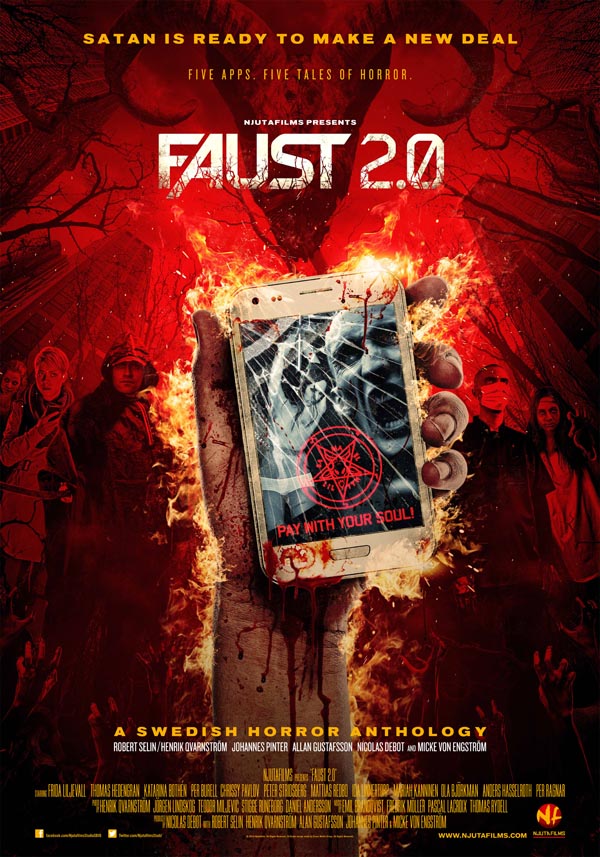 ALTERNATE POSTER