Beats (Blu-ray)
.
'The only good system is a sound system. And If I can't dance to it, it's not my revolution.'
1994. De bästa kompisarna Johnno och Spanner har umgåtts hela barndomen och nu är vuxenlivet på väg att ta dem i väldigt olika riktningar. Men just den här sommaren exploderar den fria musik- och festscenen och den största motkulturella ungdomsrörelsen i historien sker över hela Storbritannien. I jakt på äventyr drar pojkarna en natt till ett olagligt rave: en resa till en undervärld av anarki och frihet som slutar i full kollision med lag och ordning.
En uppväxtskildring med ett ljudspår lika eklektiskt och elektrifierande som scenen det födde. BEATS är en historia för vår tid – om vänskap, uppror och den oemotståndliga kraften i musiken och dansen. Producerad av Steven Soderbergh (Traffic, Sex, lögner och videoband)
—
Soundtracket innehåller musik från The Prodigy, Carl Craig, Plastikman, LFO, The Belleville Three, Leftfield, Lee 'Scratch' Perry, Hudson Mohawke och Orbital.
—
"Filmen har snyggt svartvitt foto, känns väldigt realistisk och bjuder på både humor och en tuff social verklighet och soundtracket är superfantastiskt" –
Linda Nordeman Musikguiden P3
☆☆☆☆ "Elektrifierande" – Kulturbloggen
☆☆☆☆ "Fantastiskt fin skildring två tonårspojkars vänskap" – Kommunalarbetaren
☆☆☆☆ "Mycket underhållande, men samtidigt brutalt sorglig" – Filmtopp.se
☆☆☆☆☆ "LÅT BEATSEN DÅNA! En riktigt uppfriskande käftsmäll till film." – Jumpcut Online
☆☆☆☆☆ "AN ECSTATIC MUST-SEE" – MixMag
☆☆☆☆☆ "EUFORISKC" – The Skinny
☆☆☆☆ "A HANDS-IN-THE-AIR JOYRIDE! Samma blixtrande värld som TRAINSPOTTING, men exploderar här i energi och känsla" – Time Out
☆☆☆☆ "HANDS-IN-THE-AIR! Äntligen har den galna ravekulturen från 90-talet gjorts rättvisa!" – The Times
☆☆☆☆ "Utmärkt porträtt av 90-talets Storbritannien" – The Guardian
☆☆☆☆"Jag kan inte rekommendera den här filmen nog. GIMME A BEAT!" – Filmsnob Reviews
☆☆☆☆ "Rolig, känslosvallande och oerhört smart. Njut!" – Evening Standard
☆☆☆☆ "Almost unBEATable entertainment!" – Eye For Film
"Med Ken Loachs känsla för naturalism och Shane Meadows tolkning av den anarkistiska ungdomskulturen" – Screen Daily
"Spiritual successor of Trainspotting, tuned into the power of repetitive beats and brotherhood rather than the floor-sinking aftermath of narcotics" – Flickering Myth
"Infectiously enjoyable" – The Hollywood Reporter
"An almost mythical quality to this immersive portrait of a British music scene" – Little White Lies
"Very much a punk film that brings out the inner anarchist in us all" – Movie Babble
"A film about the heartwarming and restorative power of true friendship, with a killer soundtrack!" – Slug Magazine
"Channels iconic movies such as Trainspotting and La Haine" – Deadline
"Bangs Out a Familiar Tune With Perfect Grace & Style" – The Playlist
"Beats extends beyond the rave movement and captures the fragile inarticulacy of adolescent male friendship" – Screen International
---

AFFISCH & PRESSBILDER FÖR NERLADDNING HÄR
—

—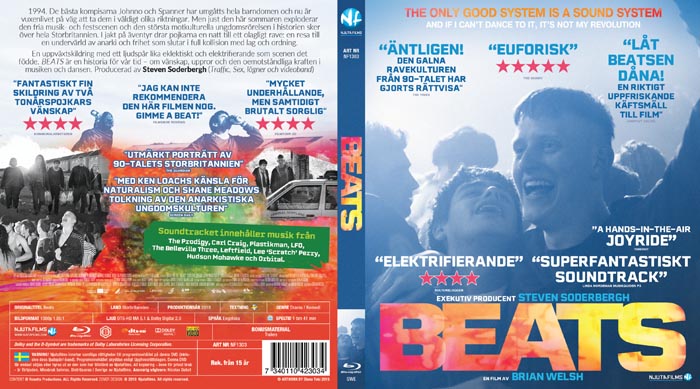 —