Aya och häxan (Bio)
—> Filmen finns tillgänglig med både japanskt originaltal och svensk dubbning. Bägge versioner är svensktextade.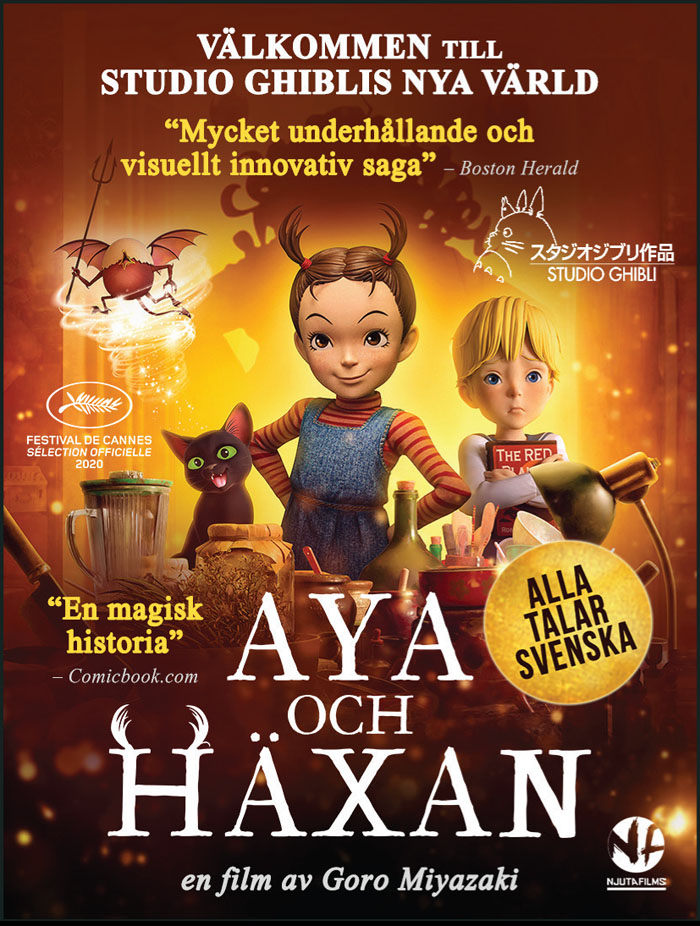 EN NY FILM FRÅN ÄLSKADE STUDIO GHIBLI!
Aya växer upp på ett barnhem utan att ha en aning om att hennes mamma hade magiska krafter. På något sätt lyder såväl barn som vuxna på hemmet alltid hennes minsta vink. Men livet tar en ny vändning när en mystisk familj bjuder in henne i sitt hem.
En ny film från Studio Ghibli (Min granne Totoro, Spirited Away, Ponyo på klippan vid havet) i regi av Goro Miyazaki i samarbete med den legendariske Hayao Miyazaki. Baserad på en bok av Diane Wynne Jones, som också skrev förlagan till Det levande slottet, filmatiserad av Studio Ghibli 2004.
Uttagen till 2020 års Cannes Official Selection.
**** "Humanistisk, intelligent och öppen för eldfängd magi" – DN
"Charmig, mystisk och spännande" – Aftonbladet
"Röj och extra allt" – SVT
"Spännande underhållning för barnen" – Moviezine
"En såväl rolig som händelserik och spännande historia" – Skånska Dagbladet
—
"Aya och häxan berättar en mycket underhållande och visuellt innovativ saga" – Boston Herald
"Skapade sig en liten hörna i mitt hjärta" – Arkansas Democrat Gazette
"Ghiblis fans kommer säkerligen påminnas om Kiki's Delivery Service" – Variety 
"En magisk historia helt i linje med tidigare filmer från Studio Ghibli" – Comicbook.com
"Svämmar över med en berusande kombination av barocka detaljer och surrealistiska teman"
– Vox

---
Presskontakt: Jasmine Martinez: press@njutafilms.com
Marknadsfrågor: Anders Lundgren: anders@njutafilms.com
Filmbokning: bio@njutafilms.com tfn: 08-21 08 04
---

PRESSBILDER, AFFISCH, ANNONSER, SÄLJBLAD, M.M FÖR NERLADDNING HÄR
---
Credits:
Regi: Mikael Regenholtz
Projektledare: HH Engström Nordic United
Aya – Ester Lejdemyr
Bella – Jennie Jahns
Mandragoran – Mattias Knave
Thomas – Nicklas Berglund
Ayas Mor – Mikaela Tidermark
Kakan – Hugo Ekman
Husmor – Jannicke Jernström
Övriga roller: Daniel Sjöberg, Mikael Regenholz, Anna Isbäck, Alexandra Forsberg
—
Interview: Planning with Hayao Miyazaki
I received "Earwig and the Witch" from publisher Tokuma Shoten, which sends me
children's books every month. I love Diana's books, and upon opening this one, I found it
to be very engaging. It's extremely scathing and full of sarcasm, but also has a sprinkling
of humor that doesn't get buried, making it genuinely delightful. In a sense, it's quite down-
to-earth, in that it depicts the process by which a family comes together.
I remember showing the book to a friend at a coffee shop. "It's appealing, isn't it? It could
become a movie." I felt it had potential for an animated adaptation, and would be an
exceptionally attractive project.
Earwig's charm comes from her indomitable spirit. She has an unflappable strength and
formidableness, and at the same time, she's an adaptive and tenacious fighter. They're the
same qualities you need when making your way in the world, and those aspects of her
character are particularly endearing.
When people around us display hostility, we often tend to lose our nerve, shrink, and give
up, but we can still somehow find a niche to cling on to, by our fingernails if need be, and
use it to lift ourselves up. That's the definition of formidableness. When times get hard, it
enables you to maintain a positive outlook, and endure hardship with a smile on your face.
Our world isn't an easy one to live in, but no matter how tough things get, we have to find
our niche and establish ourselves, make allies, and live right. These days, it seems that
ability is lacking above all.
Even children to adopt many different guises around adults, and that's natural. However,
nowadays I think that showing your awkward and surly side is most honest and healthy.
That being said, it just makes life more difficult. That's the message conveyed by Diana's
books: "This is what life is all about."
In my childhood, there were those who made an effort, and others who cheated, and we
got into all kinds of scrapes, but we wanted others to play with us more than anything, so
we'd even use a bit of buttering-up to get along. Kids these days don't experience that
anymore. They only play with kids their own age. They don't play on side streets anymore.
The world has changed for children. They don't have chances to use various abilities to
make their way in the world, so they become naive, proper, and frail.
It's said that being formidable means you don't always play fair. Everyone used to have
that kind of formidableness, but for some reason, that's been lost now. It's what we need
to survive in times like these.
Earwig is a witch by birth, but the book doesn't touch upon that at all. If Diana had lived
longer, I sense she probably would have continued the story. What happened to the witch
who abandoned Earwig? What kind of life does Earwig go on to lead? I get the feeling
Diana wanted to expand the story it into a grand ongoing saga.
The use of CG was impressive. That's thanks to the truly wonderful team that came
together for this project. Once the decision was made to work with CG, I wondered how it
would be done, but when I saw the finished product, I had no complaints. Because it was
drawn using CG, not pencils, it has a more liberated quality.
It's an entertaining film. It succeeds in conveying the energy that the book possesses, and
is all the more entertaining for it. Being able to describe it simply as entertaining is a good
thing.
My praise comes with no reservations. It must have been a tough film to make. Earwig's
formidable ability to never give up and to dig her heels in permeates the picture, and the
resolve to deliver the film also remained surefooted throughout, which pleases me greatly.
Interview with director Goro Miyazaki
About Earwig: The path to production, and a personal perspective
She's not a good girl. That's what appealed to me about the protagonist of "Earwig and the
Witch," which I read after it was suggested to me as my next project by Hayao Miyazaki
and Toshio Suzuki.
Diana Wynne Jones's works don't feature pure, just, and pretty girls. They're mostly
eccentric, and self-absorbed to put it negatively, or more positively, they have clearly
defined principles and positions, and can never simply do as they are told.
Taking that even further, Earwig (given the name "Aya" in the Japanese translation, which
is also part of the word "ayatsuru" meaning to manipulate), is a girl who tries to make
others act according to her will by finessing them. To me, that's what makes this story
most engaging.
As it happened, at the time I was thinking a lot about how difficult life is for kids these days.
Compared to the past, there are fewer and fewer children around, so many have to deal
with adults on their own. It seemed to me that Earwig's cunning and quick thinking, which
enables her to manipulate adults into doing her bidding, could serve as a model of a sort
for children living in these times.
Earwig may not be a good girl by any means, but she's not a bad girl either. Even if she
does attempt to bend others to her will, she doesn't make one-sided demands to seize
what she wants, but rather builds give-and-take relationships, along the lines of "I'll do this
for you, so you do that for me, Bella Yaga." She's not merely a selfish young lady. She has
drive, curiosity, and ambition.
Producer (Toshio) Suzuki has said that "Earwig is the spitting image of Goro," probably in
reference to my bad mouth and personality, but I'd like to think he meant I resemble
Earwig because I also stay true to myself and bring others on side in order to turn ideas
into reality, so I'll take it as a compliment (laughs).
What exactly is Earwig's power to manipulate others? It could be nothing less than her
aptitude for communication. She studies people, then thinks about what she has to do to
make them willingly act on her behalf, and bring about a mutually beneficial result. Earwig
tries to accomplish this through many different approaches. What's more, even if her target
refuses to act in accordance with her words, she isn't easily discouraged. She may think
that her approach was bad, but she never thinks that of herself. "What's wrong with me?"
is the film's Japanese tagline, and it could be interpreted as either a whimpering refrain, or
a defiant declaration. I'm fond of its duality.
It could be said that many young people today lack self-esteem. I'd say it's important to
face the future with unfounded confidence, just like Earwig.

The challenge of full 3D CG
Earwig's toughness is fitting for a Ghibli heroine, but her formidableness may not be. With
that in mind, from the moment we decided to make this film with 3D CG rather than
drawing by hand, I'm sure it became separated from the image everyone has of Studio
Ghibli.
Nevertheless, CG was chosen for this project because I discovered while making the TV
series "Ronja, The Robber's Daughter" that it can convey drama in such a unique way.
With hand-drawn animation, depicting a scene with several overlapping movements, such
as turning around while talking, while also maintaining the integrity of the image is an
extremely difficult task that tests even highly-skilled animators, but with CG, in which you move a completed model to animate it, no matter how many simultaneous movements overlap, the image doesn't fall apart.
Also, with regard to CG, we didn't choose a cel animation-like look as was used for "Ronja,
The Robber's Daughter." That's because Hayao Miyazaki is still working on a hand-drawn
animated film at Ghibli, so I didn't want to go to the trouble of making something that
imitated the look of it with CG. My film was going to be made with CG, so a full 3D CG look
was the only choice. There was also the issue of Ghibli's future to consider, so I took on
the project with the conviction that a new challenge was necessary.
(In response to Hayao Miyazaki's comment that the film's use of CG has liberated it) I
totally agree. When Ghibli makes a hand-drawn animation, it's inevitably compared with
the production style of Hayao Miyazaki or Isao Takahata, and bound to preconceptions of
the way it should be. On the other hand, by taking the completely different approach of
CG, you can do it in any way you like for the very reason that there is no precedent.
So, in addition to making the film the way I wanted to, I also chose to use rock music,
which I love, as the soundtrack. Music composer Satoshi Takebe and sound designer Koji
Kasamatsu were also given room to experiment freely. I'd very much like you to
experience the quality and playfulness of the film's soundtrack in an actual cinema.
I set out to make a film that, despite using 3D CG, would be an extension of the works that
Ghibli has produced to date. By the same token, using 3D CG made it possible for the film
to break free of Ghibli's limitations, and I myself was able to work in a freer way than ever
before. That's especially attributable to the eccentricity of "Earwig and the Witch," which
matched my personality perfectly. I'm sure of that.